Mon Bébé
June 29, 2010
When we were young, and love was right,
Your conviction lay in hope and light.
And you could call me grim or stark,
But I saw beauty in your aimless dark.
I'm looking back on pages stained
By which has stood my joy, my pain.
A book composed of greatness, girth,
A place in which my thoughts will birth.
These chapters old, yet some still new
They're made of bone, of marrow, my heart's sinew
This is the field on which is all grew!
In it lay joy, and fright, and soul, and—you.
I was a dancer, you worked with your hands.
I crossed the sea, the air and the sands.
If ever I knew what I'd left at home
I'd find myself tethered, I'd no longer roam.
Took me a while to find myself ready,
To grasp firm footing on which I'd be steady,
And as I walked in, "He left with the dawn,"
As if I had known that you'd already gone.
In these pages, with each passing day
A sentence for you, with a scalp that's gone gray.
It seems I've still got a whole lot to say
For you, mon bébé, the one that got away.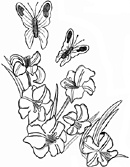 © Leah-Marie D., Peoria, AZ