Hiding
July 17, 2010
Hiding in the shadows,
Never seen.
Trying to be myself,
But never succeeding.
How am I supposed to be free?
While hiding behind everything I see?

Never reaching,
Never pulling,
But always trying.
How am I supposed to be seen?

I blend in with others,
By acting like them,
But I am sick of hiding.
Hiding who I am,
And who I am supposed to be.

The time has come,
To reach out and break free.
To be who I truly am.
No need to be afraid,
No need to hide.
Hiding is for cowards,
Which I am no longer.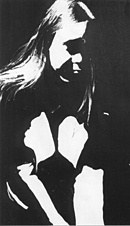 © Tabitha M., Kannapolis, NC