"Waves in the River"
July 17, 2010
Life is a river,
plagued with dirt and death.
Life flows on throughout the pain of time.
Yet, if you are strong enough,
You may swim,
But there is no chance,
Eventually, life will win.
Deep below the surface,
Are those lost in time.
Echoing no remembrance,
They are worth but a dime.
As the river flows,
It will reach waters so clear.
Yet, they are nowhere near.
It will take a swimmer to outlast the waves of time,
For otherwise the water is impossible to find.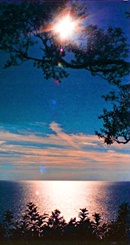 © Crystal B., Gresham, WI