Hindrances
July 10, 2010
Expelled from the pale protruding womb slightly too soon,
perched in the clutches of the crimson doctor in the room.

Unaware of the sequence that forces it to breathe,
subconsciously executing its delicate finger squeeze.

Ironic that moments earlier it embraced a place to hide,
water from its eyes symbolizes the delicacy inside.

Hidden from the vultures that circle the perimeter,
their beaks and talons aching to rip open its' center.

Encased within a fragile layer of viscous fertile solutions,
initial respiration reveals lungs to civilization's pollution.

Entered into existence without rationale or choice,
vocal cords mutter the first harmonic notes of its voice.

Parents have already planned for the creature in their hands,
decidedly dooming it with their tyrannical demands.

Shift of scene to an adolescent of a mere fourteen,
infatuated with his portrayal and how he's seen.

A simple childhood ago he hadn't a worry,
but that was a span when his pupils were too blurry.

Certain he understood Earth and her fabricated lies,
but she giggled as she tugged the lids over his eyes.

She took deranged joy in seeing his righteous ways,
he was a piece to a game he was unaware she plays.

With her fingers limp she slid him through her expanse,
hoarding time as she enacted her tranquil trance.

She moved him calmly with calculation and concern,
with no intention of dispensing any logic she learns.

She enjoys her omniscience in this turbulent partition,
all the while infecting him with the lethal human condition.

Change of pace to a past due corroded decaying forty,
he senses that the narrator is half-way through his story.

The insects of growth have devoured all his ripened fruit,
the soldiers of innocence marched with ashen boots and salutes.

Doubting if he'll ever put purpose to his namelessness,
succumbing to the strain of his essence and its plainness.

He hangs, suspended in the puddle of monotony,
unable to fulfill ambitions and aspirations properly.

Slaying optimism with his pessimistic dagger,
assuming he has impeded death as he watches him stagger.

Oblivious though, that death befriended the dubious reaper,
would've hired an angel, but the reaper's services are cheaper.

Sickles in hands they work in a totalitarian tandem,
executing anything that dares to deceive them.

As a pair they snare his intellect and control his actions,
coaxing him into a minion for savage satisfaction.

Transition to a shrewd sinking ship of sixty-five,
his skin is tethered to the soil, but his soul tied to the skies.

Heaven and Earth, the two indistinct combatant siblings,
eternally feuding over each person's second beginning.

While they determine where and to whom he will belong,
he at last recognizes they were out for him all along.

Death and the reaper witness, aware he should've confided,
unwilling to interrupt, as Heaven and Earth have decided.

His ignorance deferred him from perceiving it from the start,
ropes tighten around his limbs and he is slowly pulled apart.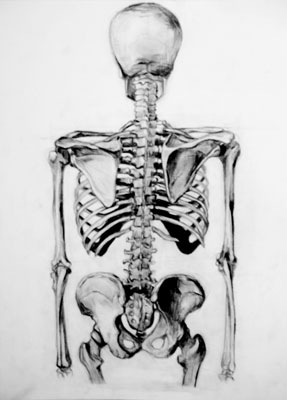 © Nina G., Nashville, TN