The Stream
July 7, 2010
The quiet stream floes
Soft water rushing gently;
Cold stone moves the flow.

The still water moves,
Rushes slowly past the trees;
Beavers' trees, long gone.

Fields of bluish-green,
Tall trees which shadow water;
Water from the past.

Insects on the stream
Water-bugs, flying swiftly;
Creek, tickled by feet.

Autumn leaves are here,
Leaves: floating on the river;
Skyless clouds of gold.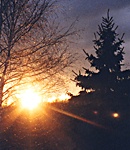 © Vhristy S., Germantown, NY