That Afternoon
July 2, 2010
I remember that afternoon
When the snow white clouds were nonexistent
The sky an untouched canvas.
Laughter sonorously boomed
Into the nearby cluster of tranquil pine trees.
And the sun stung our shoulders and the apples of our cheeks.

You sauntered out of your obnoxiously green train-wreck Dodge Neon
Fashioning one of your many baseball caps that screamed,
"FITCH" its stitching unraveling
Tufts of your black, curly fry hair peeking out
And bearing a knee-shaking grin.

We walked to the backyard, where the party was.
Coca-Cola sprung and clung to your plain white tee
And instead of rolling your penny-dabbled eyes
You just smiled as we strolled on.

We sat together on the picnic bench, some rebellious wooden pieces
budded outward, creating prickling bridges.
The coals burning our burgers made us salivate
And your shirt attracted the unwanted hissing of bees.

We chattered as we chewed
Tearing apart the flesh of our over-smoked burgers.
You asked me what I wanted most in life,
I pressed my finger on my ketchup-stained lips.

"Someone to make me the best Ice Cream Sundae.
With just the right amount of cookie dough in every spoonful.
Hot Fudge drizzled on top of a gob whipped cream,
concealing the dough chunks.
And a maraschino cherry,
whose liquid vestiges mesh with the fudge."

You bellowed a jovial laugh,
your scuffed white shoes pounded the earth
like a timpani drum.
And shook your head
Those curly fries jiggling.
I "accidentally" shoved you off the bench
Tainting your blue plaid shorts with the earthy surface.
You just smiled as we played along.

The sun's hues marbled into a strawberry-orange swirl
Slowly closed its eyes, ending its daily shift
Setting in the antiquities of our galaxy
We lay on the bare lawn
Feeling each individual grass
Exhaling its crisp breath, staining the backs of our shirts

Your Caramel hands intermeshed mine of ivory,
Mouths slack-jawed, only the crickets chitter
We smiled as we flushed in rosy awe.

The party's over,
Your decrepit car slowly squeaked to the front of my house
Sinewy arms clutched me closely
I Inhaled the peculiar scent
of strong cologne mixed in with that Coca-Cola
Stain.

You wave your hand achingly as your car brushes away
I just smiled as I walked inside.

Stroll up to my open door.
In your plain white tee
The one's that blotched
Of that unblemished day.
Signal me to slide in that Dicey Dodge Neon.
So you can take me back.
To that afternoon.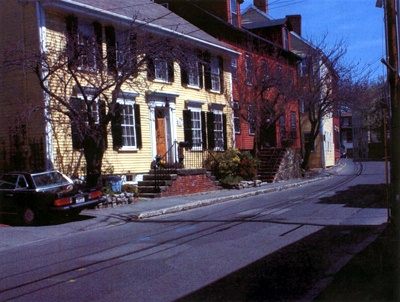 © Josh W., Marblehead, MA