Bone China Plate
July 2, 2010
I stand spine hunched
Over the kitchen sink
its tainted white paint
Slowly corroding
I squeak the faucet on
The steam capers

As I slap-dashedly
Scrub each dish.
I croon the songs
Of the desolate
Whose decaying bones
Feed the parasitic thoughts.

They guzzle the moonshine,
To eradicate their insomnia,
To ease their lifetime
Bound to the confines
of the chipping walls of their cells.

I clink the silver spoons
Against the sink's eroding edges
Just like in those youthful years
Where my father and I
Suds up to our shoulders
Tapped the silverware
like a set of rampaging rock 'n roll.
The metallic symphony
Forces a sorrowful smile upon my countenance.

I scrub my mother's bone china plate
With blue vines of blossoms
braiding its edges
A bluejay perches in the center.
My mother devours each meal on this plate,
To remind her of my father,
Buried beneath our feet.

I exert diminutive pressure
The sponge slices off an edge
The bone ash spritzes in my eyes
And clings to my lungs.
My eyes trickle down
What was once stashed away.

I cast down the disjointed edge,
the clay disperses at my stark feet,
The problem still remains.

I tip-toe to my attic
Where my father's
woodsy flannels reside
Bubble wrapped with precision,
I slide the bone china in carefully.
I begin to walk away.

Just one last huff
of his pine, paternal flannel.
The parasite still remains.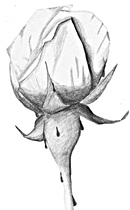 © Elaine S., Phoenix, AZ