The Flags
June 14, 2010
The flags that fly
Up there, in the lunch room
Represent not only countries
But their struggles for freedom
Their struggles for unity
They represent the never-
Ending struggle for life

The flags represent the people
Who had the courage to fight,
For their countries,
Without fear
These flags represent those people
Who helped their countries to stand
And some gave their lives
For that which they knew was right

The flags that fly in the lunchroom
Are more that just pieces of colored fabric.
They are countries' symbols that they have chosen
And they are to honor those who have fallen
They are symbols of peace
And they are symbols of what they believe
In some countries, that's all they have: their beliefs.

The flags in the lunchroom
Are more than just pieces
Of colorful fabric
And yet
The people in the lunchroom
Hardly ever notice
That there are profound symbols
Of bravery and courage
Right above their heads

Some look upward
And think to themselves,
"What colorful pieces of nylon!
I wonder how they do that dyeing thing."
Others look up
And begin to identify
All of the different countries
To show off to their friends

I must wonder
If anyone truly realizes
How many lives were given
To defend their countries
How many people
Stood against the leader
And defied them

These flags stand for more than just colorful fabric.
They stand for freedom and courage.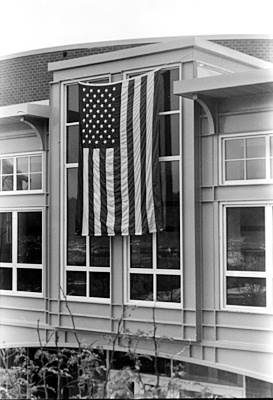 © Chuck K., Marblehead, NY