Gung Gung
June 14, 2010
Who plays solitaire in the morning rays
And whose rough ways
Are his sign of compassion
With my childhood eyes
I watch him work in awe
With every hug,
I smell his morning dose of Listerine
And see his warm wrinkles
Around his old eyes

Who golfs with my dad
On the perfect green hills
That are spotted with palm trees
Who has stories of his past
That always bring a laugh
Who swims every day in the tropic ocean
Showing me sea treasures he's found
Like a sea cucumber, and puka shell

Who makes up words when he's angry
Like the "mackerol" and "motzkee"
That cut him off on the highway lane.
Whose Hawaiian heritage is instilled in his soul
That during his winter Seattle visits
Wearing "Locals slippas" was okay
Who never shows weakness
In even the toughest mess.
But something was different
Something had changed

Who used to lead adventures
Was now too sick
Who used to be the king of the family
Was now too sick
Who tickled me in moments of bliss
Was now too sick

There is a place
Where there is solitaire every morning
And everlasting pathways to walk.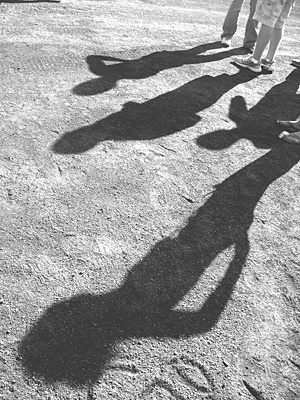 © Trella R., Mountain Lakes, NJ