Other Times
June 14, 2010
It's not that bad sometimes,
no.
Sometimes I can breath
Sometimes I can laugh
Sometimes I can think
about something else
other than you.

But other times---
When I shut my eyes,
When I smell my shampoo
(funny how it reminds me of you)
When I look in the mirror,
and I see my unhappiness---
Other times, I can't.

How is it possible?
That I feel farther away from you now
than when I simply didn't
know you at all.
A deeply etched memory, a dark jagged scar,
evaporating when I open my mouth
and make the motions to say your name.

We catch eyes, and you smile---
but not how you used to.
And I can't see your face, and it scares me
I'm submerged under water
gazing at you standing above,
the rippling texture distorting your face,
slurring together your features.

I want to swim to the surface,
poke my hand out of the blue liquid,
and verify the reality of your warm skin
against my palm.
But I get the feeling
that if I did,
you might disappear altogether.

So I let myself slip, deeper and deeper.
Until I can no longer see the colors
of your face, where they mix with the
hugh of the murky water
And now I'm on my own,
sinking
drowning.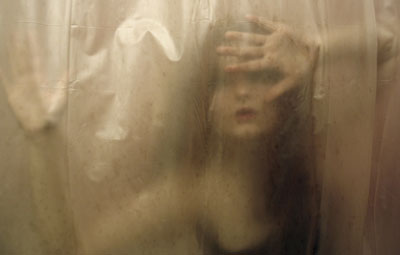 © Emilie E.