Kiss Your Toes
July 5, 2010
Her eyes flutter open, announcing a new day.
She combs her long, golden, ringlets that easily rival the sun's brilliance.
She flaunts her Chanel bag, Dolce & Gabanna tight dress, in the very mirror that reflects wealth.
She evaluates her figure once, twice, and then a third time, but not without a twirl around.
Satisfied, she begins to depart.
But, Oh!
Not without her custom-made Jimmy Choo Shoes.
She spots her most prized possession; they glisten in the light, with the alligator lining, the leather soles.
Easily, 5,000 dollars.
However, she does not know of the boy in Mongolia without a pair of sneakers.
Forced to trot in mud-slide grounds where leeches suck the living days out of him.
Of the girl in South Africa who does not have a simple pair of slippers.
Who forever cringes on rock-sand floors, which puncture her skin; and then slowly trickles blood.
She thinks of shoes as a mere accessory, which will only complete her fashion statement.
They think of shoes as sheltered masterpieces, which kiss your toes with protection.
Without another thought, she molds her feet into the high fashion heels, and slowly, but surely, vanishes from sight.
Vanishes.
Just like these children.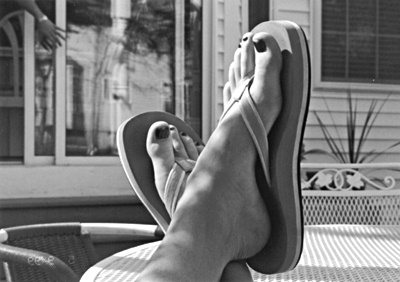 © Alexa S., Marblehead, MA