Honor the Ashes
June 16, 2010
I am young, but I do not fear death,
for it is inevitable.
With each passing day I become stronger,
With each passing day I pull thy meaningful objects nearer,
For when the reaper creeps to my side,
I shall not become angry with his pre-mature arrival.

I ask you to plant the seeds of success,
not to tarnish their soil with tears,
nor to hinder their growth with the droughts of mourning.
I wait patiently at the eastern outskirts of this lifeless world,
I wait in order to harvest the slowly ripening fruits of your labor,
that have begun to droop reluctantly over this cast iron fence that separates our worlds of life and death.

Continue to plant and till the soil until the raggedy cloak of death surfaces on the horizon,
do not welcome him, but do nor fear him,
for he is not cruel.

I ask you to travel to the east and feast with me,
feast with me on the delicious fruits and speak of your achieving life as we gaze at your beautiful eternal blossoms that protrude between the evenly spaced iron spires,
The seeds have grown well,
for you are honorable,
and our souls are healthy.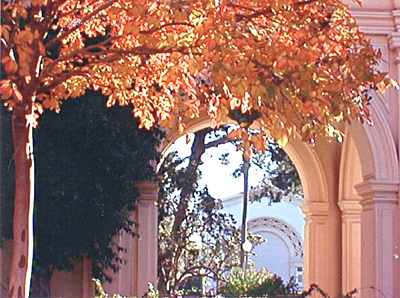 © Rachel B., San Diego, CA