I Love You
June 23, 2010
he could be the one.
i want to call him baby.
i want to call him hun.
i hope that one day maybe
i will be able to call him mine
is this a sign?
cuz he is so fine!
i dont really know what else to say
but until that day
im gonna hope
im not gonna mope
cuz i know that on that day we will be together forever no matter who or what gets in our way.
i just cant wait till we say "I Love You."
thats what'll be said
on the day we wed
we'lll lay in the same bed
i just cant wait
because i know this is fate
it'll be our day
and no one will have a say.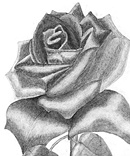 © Nghi L., Phoenix, AZ