if my love were........
June 16, 2010
IF MY LOVE WERE AN OCEAN,
THERE WOULD BE NO MORE LAND.
IF MY LOVE WERE A DESERT,
YOU WOULD ONLY SEE SAND.
IF MY LOVER WERE A STAR
LATE AT NIGHT, ONLY NIGHT.
AND IF MY LOVE COULD GROW WINGS,
I'D BE SOARING IN FLIGHT.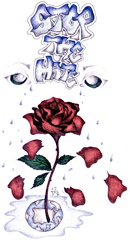 © Diana G., Phoenix, AZ