Life is a merry-go-round
June 8, 2010
Life is a merry-go-round,
You have no choice but to get on,
With all its pretty colors of blues and greens and a dash of red here and there,
The horses are dreams you reach to climb upon,
But you can't make it,
Not just yet.
And you spin 'round and 'round,
And all you did was stand and stare because it was all so beautiful and new,
The sun was bright and the grass so green,
The rain was cool and the summers hot,
And you just worked to take it all in.
But you can't just stop and stare,
You have to take a stand,
Believe in what you say and make actions.
And you spin 'round and 'round,
And one thing leads to the next,
Problems and prides coming in droves.
The 'A' on a test,
The betrayal of your friend,
Your broken ankle,
Your mother's surgery,
Your grandparents' deaths,
Your graduation.
And you keep spinning,
Never able to stop or get off,
'Cause you keep lookin' for that bright sun and green grass,
Those cool rains and hot summers,
And you keep reachin' for the top of that horse,
Clinging and dragging yourself closer and closer,
Through mud and blood and tears,
Doing whatever it takes to reach the top,
But like a wave crashing over your head,
You drop to the floor like a stunned bird,
And you watch the world go spinning 'round,
And you realize,
You've never been movin',
Not even an inch,
It's the world that's been movin',
Spinning 'round you,
And laying still on the ground,
Not knowing how to get up or what to do,
The world keeps spinning on without you.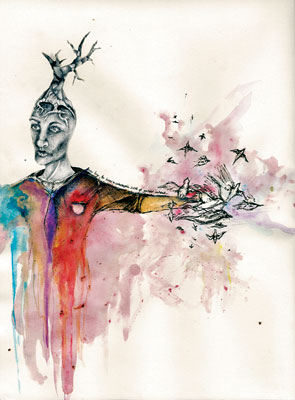 © Alice B., Sarasota, FL