What I Need To Hear
February 27, 2010
Hopefully when you leave here,
you won't have to un-brake yourself.
You won't have to turn the TV up so loud,
and you won't have to blink your eyelashes so fast.
You'll finally have that silence you always wanted,
that one you create most of the time,
the one that holds you together inside,
but keeps everyone else out.
You'll finally have that.
I'm sorry for all the times I never called you beautiful.
I'm sorry that I just watched and smiled at you in that blue dress.
Now you don't know…
and it's unfortunate that words have become meaningless,
you understand,
you know the value of silence,
you know the bite of emotions.
I've watched you eat bitterness with both hands,
and I've heard you regurgitate it out on lost children.
What do you want from me?
I've kept you from everything I've seen,
and I think it has made you less stronger yet cold,
-a cold I tried to prepare you for by submerging you in it.
Now you're drowning,
I can see it in your eyes,
I can hear it in your voice,
you're dieing here,
and I'm sorry sweetie,
I'm so so sorry.
I never wanted to hurt you,
but I never wanted to let go.
They're making me now.
I have too,
and…
for the first time,
your smile looks real,
and that hurts me,
but it'll be ok
because…
it's almost over.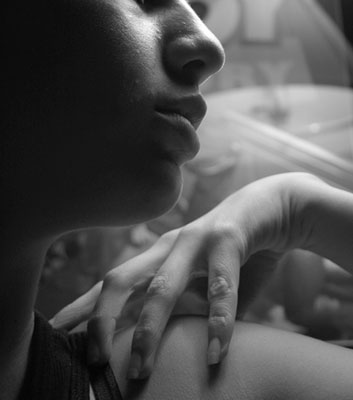 © Rebecca B., Santa Clara, CA