Sea Dream
June 11, 2010
I go on my motor boat for a day
The sun shines brightly and lights up the sky
With everything sorted and in place, I start the motor up for a change
VROOM! VROOM! VROMM!
Soon, I stop at a restaurant and eat as if I hadn't been fed for years.
Finally I climb on the boat again, but wait!
Something definitely has changed,
I peer up at the sky and notice that it is very dreary
The clouds look like they are getting ready to cry.

Ignoring the clouds for they seem far away
I turn the ignition key and start up the boat again.
Heading toward the open sea, the aquamarine water appears calm,
I observe a school of minnows heading quickly under a rock.
Dolphins jump in front of the boat as if they are trying to tell me something
The waves begin to increase in size,
The boat begins to sway from side to side like a tree battling wind.
My hair blows in the wind and all that is not tied down gets tossed around
The clouds start shedding their tears.





CRASH! BOOM! CRASH! BOOM!
The sky turns dark as night
The waves crash against the boat's sides
I lose my balance and fall back against a chair as if someone pushed me.
Quickly I grab on to the wheel.
Steering out of the storm, I notice the waves begin to calm down
The fish begin to surface again and start to rise in the air
The clouds start to clear again.

I am lucky; I am out of the storm and into a safe harbor
The waves calm and gently roll in small ripples
The storm disappears like a puff of smoke.
Dolphins begin to jump again and fish begin to glide underwater
I see other boats in the distance.
The clouds become as puffy as cotton candy; all is well again.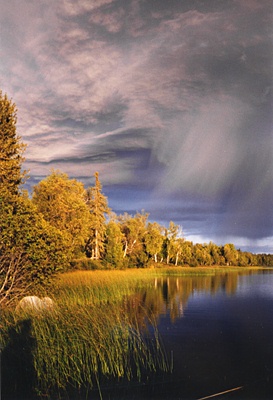 © Dustin B., Nikiski, AK