Uncontrollable Calmness
June 14, 2010
Sitting here I realize that the reason the silence is screaming at me is because my mind has gone blank at the prospect of having to think about what I have to do.
Standing here I wonder whether this would be an easier task to carry out if the person it involves weren't perfectly flawed, and exulting in every possible way.
Lying here I start to panic about the fact that I will be performing this incredible feat in less than two minutes and it has to happen exactly the way that I've always imagined it will.
Pacing here I now understand that the reason I have no idea how or when to do this and the reason that my lungs are full of usable oxygen and I'm suffocating is because I've never done this before.
Here in front of him my palms are sweating, my knees are shaking, my heart is racing and in my soul a cold fire is burning a hole through my body.
I'm so nervous but I have to say something.
He's waiting.
He's waiting here in front of me hoping that I will say something, anything to end this agonizingly pleasurable and deafening silence that has surrounded us and sucked all of the air out of my needing body.
Now that he's here I'm starting to doubt what I have to do even though I know I need to because it's important that he understands the way I feel about him.
I keep telling myself over and over to just get it over with but my mind's logic and my heart's desire are in the middle of a ragingly peaceful war, each side trying to win.
So… sighing here I've decided to just get it over with.
Not even think about it.
Until it's over.
Just do it.
Here goes my mouth…
"I love you."
He smiles.
"I know. I love you too."
He hugs me.
He has a very pretty stink.
And the most beautiful eyes.
And, …… oh, yeah. That wasn't do hard after all.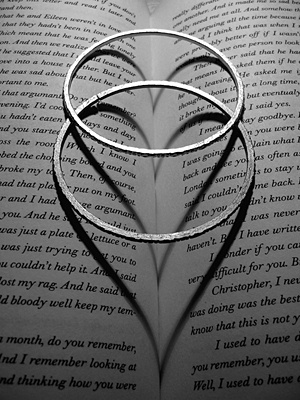 © Julia K., Old Tappan, NJ