Chordae Tendineae
June 13, 2010
I offer you this dismantled core, won't you take it?
Thus I trade in these insignificant fantasies so that It
May form a new equation in which I and U are the subject of a formula.
You see I'm not looking to indulge in a catatonic amount of your essence
No. Rather I want to recognise your fragrance without any senses.
Less I try, the more I gain, but yet I'm forbidden to venture on your alien-plain.
So I'll keep, close to myself, those velvet assumptions whom possessed my actions.
Speak until my lips can't take the sound or one more letter,
And blood rushing underneath my capillaries turn to fire,
Unquenchable, un-stoppable, but alluring in its own pain.
Enticing images flash by, like traffic lights.
To my non so human eye, you, a motionless statue
Not as radiant as the moonlight, but as divinely capturing as
Sunlight.
Yes. I am a captivated
Unravelled into this wronged living, and
Your name engraved in my sleep.
Collecting my darkest secrets and anguish, although
Erasing my past, you live me with no future and no resources to abide.
Now. Mildly. Finally.
I leave my breathe here on the conquering floor, perplexed
Incapable of grasping the isometric un-winding of my life.
I renounce to have ever surrounded my heart to it.
I discard this ineffable feeling, with which I loved, truthfully
I've never known everything, but you, who turn out to be nothing.
Indecisive I sit here, forcefully offering you my misplaced heart
Will you take it?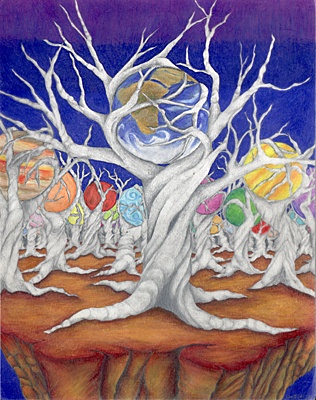 © Sara P., Lake Mary, FL