Breaking Away
June 13, 2010
My hunger is to run, run as fast as I can to as far as I can go.
A part of me wants it, longs for it, craves it.
To leave my troubles behind me, to disrupt the daily flow.
And as pieces of myself fade away, bit by bit.
Till I am not myself anymore.

Why am I the hero if you're dead and gone?
Why am I the hope when I was the one who failed?
Is it because you believed that I was always right and never wrong?
Is it because I was always your wind blowing while you sailed?
Well you're dead, so leaving wouldn't hurt you anyways.

I'm running now with wind flowing through my hair.
For there is nothing holding me back and my resolve has already been made.
My senses are on overload, there's excitement in the air.
Forgotten are my dismays and the debts to be paid.
And now onto my new world.

I run with no thought of where all of this ends.
Will it be in the mountains or near the soothing waves of the sea?
My thoughts have been far away from loved ones or friends.
Maybe it will end in a scorching desert or underneath the leaves of a jungle tree.
Enough! No more thoughts! They shall only bring pain.

I have no clue when my two feet became four.
When my humanity has slipped to the point where I have changed.
My instincts now control me and have altered my very core.
No longer am I the human who's allowed my regrets to keep me caged.
I am now...a beast.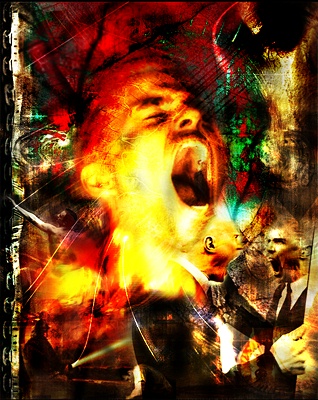 © Mark P. Woodside, NY