You Again
May 22, 2010
I see you everywhere, you follow me.
I can picture you here or there,
Always that smug grin on your face.

You're nothing more than a figment
Of a child's imagination.
You are my perfect man,
But just a child's hallucination.

You could say anything
And still be known to me alone.
With your mismatched eyes
And jet black hair.
I wish you were real.

They would call me schizophrenic,
But I know you're not true.
You're only real in the safety of my bedroom,
With the door locked.

If only they knew,
What you were doing to me,
They would destroy my imagination.
Just as you are to my heart.

Not only you, but the others.
They only come out in the safety of my bedroom.
You all pulling on my heart at once.
Soon it will all spill out.

A mask can only hold for a time.
Until the mask is gone,
The truth comes out
And my heart stops.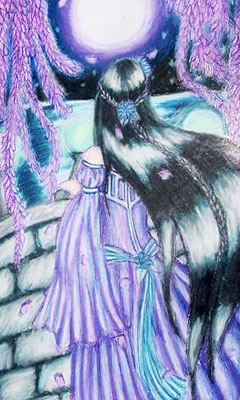 © Kelly K., Fort Collins, CO