Lightning Struck
May 22, 2010
The information. The data. The facts.
They all show what should be know
To be true:
Lightning cannot strike the same place twice.

Yet, I've seen it, or more than that, I've felt it.

So, accordingly, maybe you are just the same lightning bolt
Striking over and over.
That may be more plausible, but, probably not.
It's just that, looking into your eyes for the first time…

Pow!

With the cartoon box around the word
And the stars in my eyes
And bluebirds flying about my head,
I was struck.
But your thundery skies extended a hand
And I thought I had become lightning, also.

Cablam!

I was wrong. Of course.
For nothing could match that storm that just
Blew through my life.
Each time I saw you I was stricken.
Dizzy and sicker each day,
I leaned on your crackling energy.

My lifeline of poison and shame.

Yet,
You filled the heavens with your blinding might
And I couldn't look away.
You struck again, when you left for the last time.
I stood clueless, spots still clouding my vision,
Wondering why the storm had dissipated.

It was beyond my comprehension, but I theorized.

You must have flung yourself into the Earth
Because, forever afterwards, from time-to-time,
Violent tremors, such as an earthquake's aftershocks,
Passed in waves through me
And forced me to cling to anything that just
Might contain you.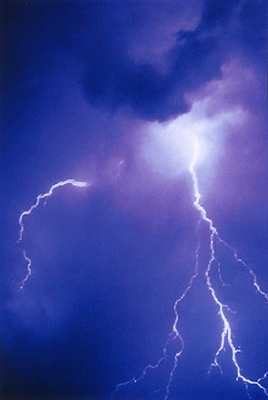 © Steve A., Goodyear, AZ