impasse
July 5, 2010
over the bight the moon
hung so thin

that it appeared as an egret, about to
swoop low into the crescent lip of the shore.

the water laps and our
feet slap hard sand, pounding out our

percussive movement.

the night sky grows darker around my peripheries
as my head grows dizzy;

yet there is no lunar swoop

and my egret moon remains
suspended in this salt air.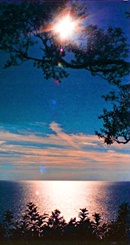 © Crystal B., Gresham, WI