Cousins
June 9, 2010
The eight of us sit outside
telling jokes and stories on the trampoline.
Jacob tell the "Ketchup and Liquor" joke
for the third time but we all laugh anyway.

Connor laughs and almost chokes on a jellybean
from his Easter eggs.
"Are you okay?"s echo around the circle
He says "I'm fine" and after a moment,
we all go back to laughing.

We take turns, going around the circle
telling our best joke.

"What did 0 say to 8?"
Tripp says.
I look around at all the pondering faces.
"Nice belt!" he answers himself.

We all laugh again.
The pattern continues until
it gets dark.

"Jake, Zach, Luke!" my aunt calls.
"Time to go home!"
We each groan in protest.
Ash, Em, Tripp, Connor, and I
hug each one of them.

"See you later! Happy Easter!"
Zach says jumping off the trampoline.
"Bye!" The remaining cousins say.
The rest of us jump around
until it's Ashley and Emily's turn to leave.

Now, our cousins are gone,
but on the bright side
it was one of the best Easters
ever.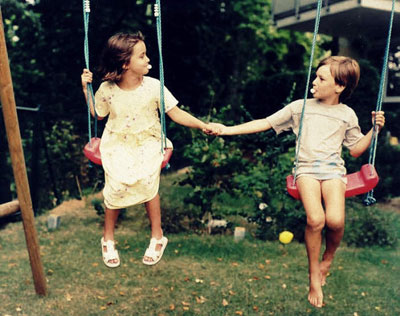 © Lauren K., North Kingstown, RI