When You Gotta Go, You Gotta Go
May 27, 2010
Bubbles float upwards
and pop at the surface of the Olympic-sized swimming pool:
I notice them escaping from my nostrils.
Barely able to open my eyes underwater.
Mike—or so I think—swims above my head to the ladder.

I remember two summers ago when Mike and I played Wiffle Ball.
The skin on my back twists as my sunburnt arm slingshots passed my ear.
The plastic, dented ball whips through the air.
Mike swings.
The ball nails my right eye,
morphing it into a puffy, black-and-blue scream.

Piercing upwards,
I rupture the water's surface and take a peek,
eyes bloodshot.
chlorine.

"Hey, Mike!"
He swivels around and paddles towards me.
With every glide his arms jerk at the elbow.
Fingers interlocked, fidgeting.
"What's up?" Mike shivers.
His neck tweaks. Face muscles droop. Eyes drift back into his head.
Relaxed.
Suddenly, a rush of warmth
paves through the room temperature water.

My eyes dart to the Jacuzzi:
a young mother and her toddler, goggles, floaties.
I chuckle.
She cups water in her "pruny" hands,
lets it stream through her fingers;
his bleach-blond hair drenched.

The Jacuzzi births foamy bubbles,
like a constant stream of dirty smoke
that erupts from Mr. Pipe.

But, no heat.

My irritated eyes shift back to Mike…
he's gone.
A trail of water begins at the pool's edge
and journeys to the men's locker room.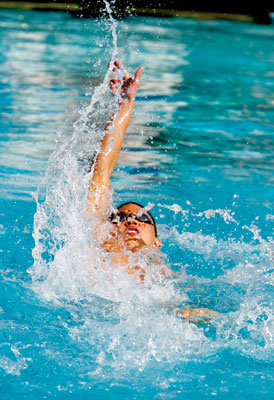 © Wenting C., Fremont, CA