Our Independence Day
June 1, 2010
The three of us,
Tied together by a common interest
You could say.
Barely breathing, running through the grass
Until we feel water.
I can't remember if the salt came from my eyes,
Or the waves.
You tried to teach me to ride the wakes.
I commend you on your tremendous patience, sir.
You scooped me up,
And we swam together.
The blue
In your eyes
Made all other liquids jealous.
Laying together on a shared towel feeling safe,
wanted, adored,
and complete.
We took turns telling stories.
You both laughed at me.
Dizziness and heat
Laid like blankets over us.
A million different people
In the room and your eyes
Were on me.
And as the sun set, we selfishly stole clocks
To try and avoid the inevitable.
Tan legs crossed in the sand.
You covered me with your oversized sweatshirt
And I hoped some of your smell would rub off on me.
Suddenly, the sky lit up with explosions of color and sparkle.
Faster and faster the fireworks
Spit into the sky.
You held me closer,
We laughed,
And this last part I never told you.
I cried.
I cried because
There was no way this happiness could be replicated.
You never saw because I never wanted you to.
It was the best day.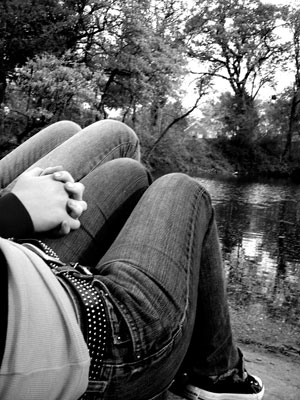 © Lauren R., Edmond, OK