Far From Pacific
May 14, 2010
The smooth winds and calm sea,
The light azure sky, reflecting on the deep.
An airy breeze with this shining sun is the key
To these effortless days. Set up the sail
And let the warm air take you away.
As the waves and breath of the sea begin to sweep,
The indigo water quickly turns an iron grey
And the kind breeze now a full gale.
Listen! Hear Poseidon's roar!
Watch your boat sway from side to side,
Crashing into the blue walls of the spray.
You can try to run and hide,
But your crash in inevitable, so close at hand.
The foamy blue and your ship nearly collide;
And through all this you're trying to understand.

From the depths of the sea,
The salty waters fall from the skies.
You want to get away, but there is nowhere left to flee;
You're caught in the storm.
The tears from the skies now fill your eyes,
The whirlpools beginning to swarm.

Over the Bow, through the clouds and the rain,
The rocky cliffs of the Earth emerge.
Fear begins to fill your body as you
See yourself dangerously close.
The colors from your face start to drain
As the violent rocks jut into view.
Nearer and nearer, the waters surge
Around the earth. The wood splinters with
The first hit; shattered planks and torn
Sails are thrown from the ship.
As you see your vessel crash,
You begin to think that love is just a myth.

The love that was, now seems
To be only but a dream.
With nothing better to do than mourn,
The pain inside tearing an endless hole.
The ship on the restless sea
Pulled you down as a whole.
With all the ship's ruined debris,
And with nothing left, you are still all but free.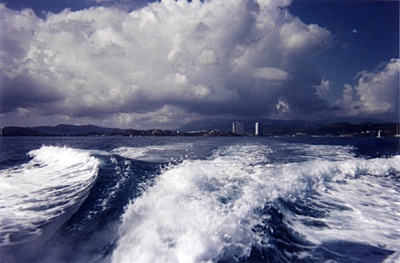 © Jenn T., Dover, NH