["We're All Mad."]
June 2, 2010
The thought of you sends sparks and calm
Through my warm veins of blood,
To the pit of my stomach where I'm pretty sure
My heart resides.
You invade my days like
Peanut butter and jelly sandwiches that
Threaten to capture the realm of children's lunch boxes;
You're the first thing I think of when I peel the sleep from my eyes
And the final thing I feel in my subconscious dreams.
Your face is temperate like the pink
Ink
That I scrawl this poem in while I really should be completing last week's homework
But instead like I do many a days
I dream of you and your soft gray eyes,
The same subtle slate I affectionately gaze into on
"Rainy Sunday mornings."
Your Hugs are like a warm hoodie
On a chilly day,
Wrapped around my torso and arms
To guard the soft skin I know you adore
And kisses are like
Snake bites
That sting and send poison through your seams—
I'm addicted.
Yes, I need it,
I need you and you know it
But you don't use it to your advantage,
No,
It's merely a perk that you receive
That you recognize I'll never leave
I'll be by your side, silly boy,
You'll not be unaccompanied
To this quirky little picnic
Called life
Again.

You invade my days
Like
Kisses around my collar do,
A pretty little "I Love You,"
And I'm hooked.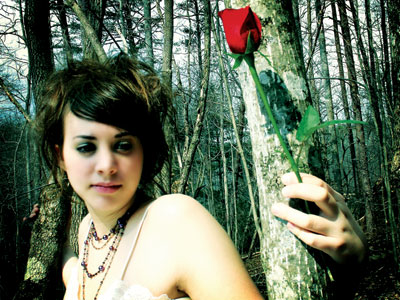 © Michelle B., Blairsville, GA