Pages
May 27, 2010
He is not Romeo.
He is not Edward.
He is not Noah.
He is not Mr. Darcy.

He is not as I dreamt he would be,
Sweet, smart, honest...
My awkward silly face,
My best friend, always there.

Our love was like a new book,
The fresh, new binding waiting to be touched,
The cover, open and honest.
From the side the pages gleamed with gold leaf,
The outside looked so ideal.

The plot carried the days away,
Muliticlimatic, embrace, adventure, secrets and pain.
Clear, translucent words smooth beneath my fingertips,
Creases are found and worked out.
Pages soon turned to dull sepia.

Reading became routine.
Glittering pages are gone.
The binidng is now cracked and tarnished.
Tears, tape, folds, all over the aged novel.
He closed the book and moved on.

Love is not as I dreamt it would be,
Yet I can't help but think
Wind that gently caresses my ivory cheek,
Is his touch, his laugh, his voice, his scent.
I wasn't done reading that aged novel.

I am no Juliet.
I am no Isabella.
I am no Allie.
I am no Elizabeth.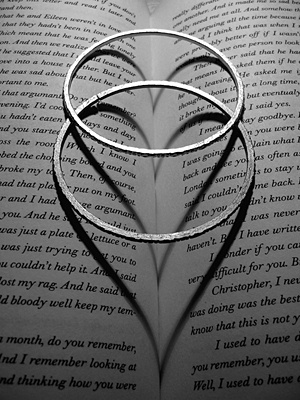 © Julia K., Old Tappan, NJ