Matins
MAG
May 27, 2010
Waking up to the kiss of the fog on
the window pane
Morning-flavored pizza. Cold.
And the murmur of cartoons and coffee mugs slicing through the white of the kitchen tile.
I join you on the couch
Trying to match your eyes as they trace the page
Dodging in and out of paragraphs and
Hopping over periods and parentheses
While I fiddle with a loose carpet string.
You peer at me through soft pink eyelids
Bare
Smeared with last night's eye cream.
So clearly aware
Of every last sound in the house
From the guilty scuff of sneakers on a new rug
To the careful click of a key in the sleeping door.
I fall slowly into the quiet hum of the furnace,
Your coffee breath mixed with cotton,
and the traces of old perfume that hang off of your pilling bathrobe.
Blinking at the blank television screen across the coffee table
I stare at your blurry reflection in the thick black glass.
A white figure in the heavy morning air.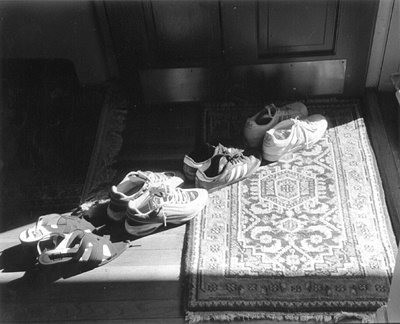 © Caite P., Marblehead, MA