Bayside Haze
May 26, 2010
Picture this:
A town of medium proportions, medium citizens, average, normal, American, Michigan.
Easily described and easily understood.
Surrounded by water and tourists and "fudgies", cherries and heat and snow and life.
Downtown of music and books, movie theaters with plush red seats, French food on brilliant white plates.
Bayside runners, Frisbee players, bikers, families, mom and pop.
Sunny mornings full of chirping chickadees with lazy nights full of crickets.

And picture this:
Heat.
Scalding, burning, drowning in the heat.
Cool –
Water.
Refreshing, tempting, calling to the people.
Twin bays separated by a single peninsula covered in houses and orchards.
Shallow to deep with every depth in between.

Picture this:
A bright orange spot in a sea of blue.
Haze creeps in from over the horizon, obscuring the shimmering surface.
Darkness is falling bringing with it the shade and the chill and the dew.
Night –
Children asleep safely in beds; it is a school night.
Cold water meeting the heat of a dying day.
Dogs are curled around their tails while cats begin to prowl.

And picture this:
Two people sitting side by side, wind blowing past,
The windows are rolled down, music plays softly underneath easy conversation
Speeding around the bay, watching the sun creep down.
Knowing who is home waiting,
A porch light attracting night life bugs.
The mist is soothing on eyes tired by a day of light,
Woken by sun, lulled to sleep by a horizon impossible to discern from a water of fog.

Picture this:
Not summer, but simple May.
Warm to cool and back again in hours,
An economy, a town, a community, a family, a person
Pushed ever onward by the water.
Whether ending in a rainbow or in empty space,
An entire area captured in the moments
And in the lifetimes of peaceful, changing, aging: bodies of water.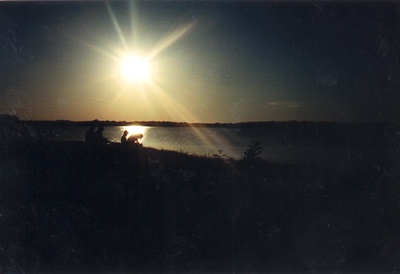 © Angela F., Bonham, TX