You And Me
May 26, 2010
"Blondie!" you yell down the hall.
I turn around, so do several other blondes in the hall.
But when they see you, they look at me and give me a look as if to say "You are so lucky!"
I just see you, no one else, waving your arm at me, and I smile.
"I am lucky," is what I'm saying in my head.
"Wait for me!" you yell, but I can barely hear you because of the other people in hallway.
"I am!" I scream back.
You start to run towards me and it seems as though the crowd is parting for you.
I turn around and close my locker.
As I turn to search for you, magically you appear.
"Hey." Your long brown hair sways across your brow as you flip it.
You lean against my locked locker and smile.
"Hey," I say back.
"So..." You wrap your arm around my shoulders.
"So," I repeat.
"Busy later?" As we walk down the hall toward the buses, I stare up—since you're just a little

taller than me—into your sparkling brown eyes.
As weird as it sounds, they remind me of root beer.
I tell you this and you laugh.
Your laugh is, unexplainable.
I laugh along with you.
With your solid gold laugh.
I say, "Nah. Nothing, as usual."
You laugh again, and I smile.
It really sucks now, because we're at the doors.
Only a couple minutes left of you, until tomorrow that is.
"Well then, call me, alright?" you say.
Your arm lets go of my shoulder and grabs my hand instead.
We walk to your bike in silence, but I don't need words.
The soft touch of your hand in mine is enough.
You unlock your bike.
You walk you with me, your bike at your side, to my bus because it's at the front of the line.
We get to the door.
"I'll call you," I reassure.
"You better," you joke.
"I will. I promise." I take one last look into your root-beer-brown eyes.
"Bye." You wrap your arms around me, and I do the same.
We stand there, embracing, until a different ninth grader, one of your friends, walks up and

makes it a group hug.
"I love you guys," he says.
I laugh. "I love you too, buddy."
"Hey!" You look offended. "What about me?"
"I love you too. More than him."
"That's not fair!" he says.
"Too bad," you say, and you kiss me.
It's quick, and I'm sad when it ends, but I put my head back into your neck and stand there

until I can hear the kids on the bus banging on the windows.
"Miss you," you say.
"Miss you," I repeat.
You let go of me and I feel a rush of cold, February air come between us.
I want to be in your grasp again.
In your muscular, warm farmer's tanned arms.
But instead of reaching for me again, you mount your bike and say "Love you." one more time.
I say it too, before I jump on my bus and rush to my seat.
I sit down and look out the window.
I still see you, and you see me.
You blow me one final kiss, and I put my hand up against the window.
You start to pedal off to your house, down the street.
"Don't leave me." I whisper.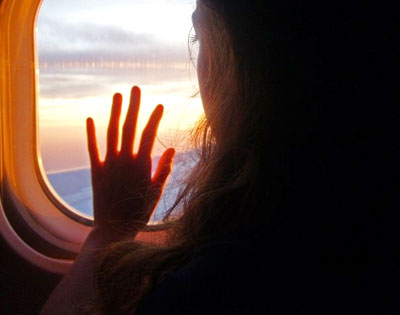 © Megan C., Nashville, TN