Alien Invasion
April 22, 2010
My house is being invaded by aliens
Aliens dressed in funny suits resembling my family.
And they try to fool me but there act is weak and I knew from the begining.
But I mustn't let them know for I would be disposed of.
At first I thought they would eat me one day.
Creep in my room at night and bake me into a delicious alien pie
with lots of Gloop and Glorgenfush because humans taste best that way.
But they have not eaten me, yet.
And I wait for the night they will.
But sometimes, as my mind sort of wanders, I start to think that maybe they are not here to eat me.
Maybe they simply want me to think there my family because perhaps they want to be loved and they want to love back.
Perhaps they've dreamt of a cozy home and a perfect family.
Perhaps there was this Alien lady who saw this video of the the Ozzie & Harriet Show,
And thought 'Oh how I long to have a family like that.'
So she pretended she was Harriet,
But no one cared.
And perhaps there was this man who longed nothing more than to be like Ozzie.
And to pass around a football with his sons and to be funny and make the audience laugh.
So he pretended to be Ozzie.
But even if he said everything Ozzie said.
He just wasn't funny the way Ozzie was.
And perhaps somewhere there were even Alien children who longed to be like Ricky and David cause they're parents loved them and never got mad and these Alien children would give anything for a family like that because who wouldn't?
So they went to my home and dressed like my family and pretended to know me and be 'perfect'.
And I pretend to believe them.
But they know the truth.
And I know the truth.
Because none of us are really very good actors anyway.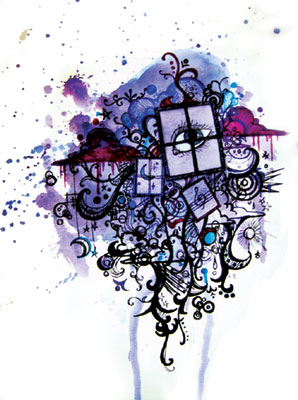 © Savannah R., Stoneville, TX