The Rollercoaster
May 28, 2010
I remember the lights.
The flashing, flickering, finest of lights
Illuminating my round, innocent face in
A rainbow of color,
My tiny mouth hanging agape in awe

I remember the screams.
Those thrilling, chilling, trilling screams
Of passengers aboard the mad ride
Hooting and hollering in fear and excitement,
As they barrelled down the tracks

I remember the feeling.
The nervous, nauseous, never-ending feeling
As I approached the line,
Cluthing my father's hand firmly.
And then I saw it… the board.

I remember the board.
That teasing, taunting, terrible board
It loomed over me reading:
"YOU MUST BE THIS TALL TO RIDE"
And my head fell just short of the bold red line.

I remember the tears.
Those warm, wet, unwanted tears
That streamed down my cheek, dripping off my chin
As I wallowed in my sorrow
And wished I was older.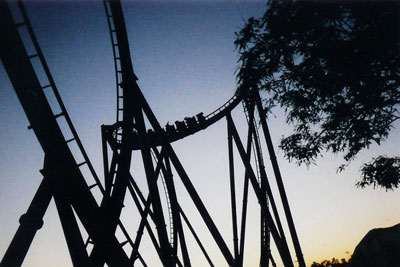 © Aaron S., Shelby, NC