Grandpa
May 25, 2010
At age 84, he has seen it all.
He lives alone now, but still has family all around.
He feels the loss of his wife of 60 years.
She meant everything to him.
Through his life he has seen all that a person could see
And experienced all that one could do.
He was born to two loving parents
And had brothers and sisters too.
He went to school as a child
And graduated from 8th grade with his friends,
He continued his education
Until he was drafted into the war at age 17.
He went into the Navy and made new friends.
He saw some go home and some return to their creator.
He enjoyed his time and made use of it.
He had his fun and laughed a lot.
He later met and married his wife,
And enjoyed spending time with her.
He had 7 loving children.
As a family they had their times.
His sons helped him work in the woods,
His daughters helping their mother.
He is sitting at home, watching TV,
Letting the days pass by,
Looking forward to his grandchildren stopping by,
Seeing his children grow and make their own families,
And remembering his past years.
He is lives alone but will never truly be alone,
The wrinkles on his face show his soul,
my mentor, my confidant, my friend.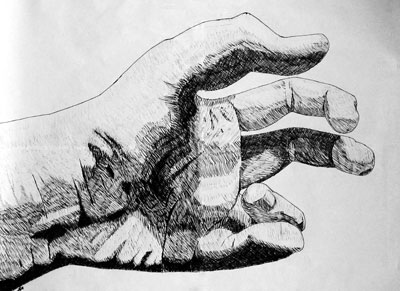 © Luke S., Montclair, NJ