Empty Chairs
May 24, 2010
I sat across from an empty chair today, I saw your face while looking at my feet.
I tried reaching out to your embrace, but our bodies did not meet.
I lisnted eagerly for your voice to say i love you,everything will be alright.
But instead i hear silence and whispers "i hope she'll make it through the night".
I felt the wind blow auburn strands across my face, i hoped it was your sweet breath.
I wish i could remember the taste.
I lost the day you were gone, it drowned in a sea of glistening tears.
Just like the man who abandoned me throughout all those years.
I miss the horrible person you were to me, the way we would always fight.
Anger encouraged love and everything always turned out right.
I forgot how to love, i forgot how to care. I forgot the way people always mistaken us for a pair.
I smelt a friend today, it reminded me of you. You always said i had a smell to me, but all i ever smelt was you.
I stared into space today, you wiped tears from my cheek.
Thats all i do these days, i dont even bother to speak.
Something is missing from my life today, i cannot deny what is true.
But that chair should be filled, filled abundantly with every peice of you.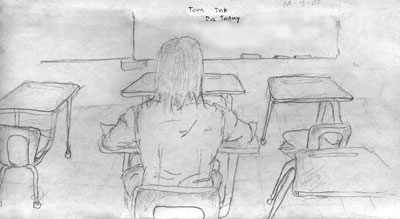 © Christopher M., Dededo, GU