"What Road Taken?"
MAG
May 21, 2010
Often asked and often over-looked.
A question frequently said, but never
fully understood.
What road taken?

A fleeting thought and the decision is made,
Viewed without consequences, never looking back.
And those who do decide to turn around,
See moments past and choices made.

A long and twisted path is left behind you.
Unique in every way,
for you are the only one to have taken this path.
You are surrounded by other paths; lives untaken.

You come across yourself, a small child.
Crying and alone, you try to console him.
Tenderly you comfort him, tears falling down his face.
You try to remember, but you cannot seem
to relate.
It is as if you are two separate entities,
Once alike and now completely different.

You look at your reflection in the mirror to find yourself crying.
Not tears of sorrow and pain, but of praise and rejoice.
And you recall the feelings long past,
A sense of self being.
You are whole once again!

You say your good-byes to the small child,
Continuing on your way, no longer afraid of the future.
Instead you feel something you once did,
A long time ago: excitement.
And you ask yourself
What road taken?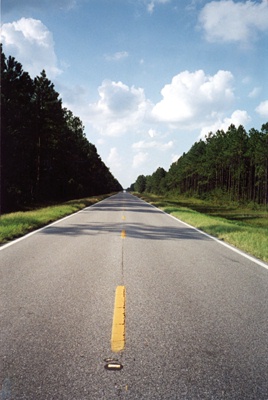 © Amanda M., Coventry, RI