The Eli Anthem
May 18, 2010
He likes the same things I like.
Surfs the same sites I do.
Watches the same things I do.
He made me believe chivalry wasn't dead.

She sat infront of him.
Long after I did.
She knew how to flirt.
How to look like gf material.
I thought I did.

It was practically a dare.
He kept his promises.
Followed the dares.
Listened to rules.

Then there was him.
Another person I thought I fell for.
She liked him too.
But she was now taken.

He did not feel like I did.
He was catching on to how I felt.
He used it to gloat, to show off.
That was the jerk I was in like with.

We are young.
Don't know what the meaning of love is.
Yet we know how our heart may break.
Felt it crumble, watch our lives slowly fall apart.

Then there was her.
The person who seemed to like everyone I did.
Chase my dreams.
Until they were in her grasp.

I was the person who just couldn't fit in.
Was not in the equation.
And would never be.
I was never going to be loved.

I have been liked.
But the result of desperation.
I will not be anybody's last resort.
I will never be liked by mine.

My first has been taken away.
My second could like me.
My third was not truthful.
But I would've been happy with any of them.

I got involved with drama.
Put into the akwardest of places.
Done things I have never enjoyed.
For what?

My heart has been broken time, and time again.
But never has somebody held it.
Like I have with so few.
Nobody sees it.

It's all a joke.
A big game.
Of which I always lose.
Never want to play.

But am dragged in anyway.
Not by a person.
But by myself.
My heart, which always gets the "move two steps back" card.

I move one step forward.
To move two steps back.
I am always the result of heartbreak, loss, and failure.
I will not change anymore.

Not adapt to be what someone likes.
Nobody ever sees it.
Not him, or him, or him, or her, or her.
Nobody will come for me.
I will no longer come.

All my chips are on the table.
Somebody pick them up.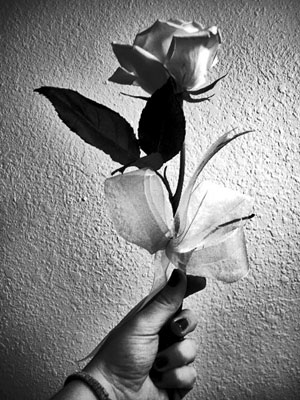 © Lauren R., Edmond, OK