Nothing To Say, Everything To Lose
May 16, 2010
I kick,
I scream,
I cry.
These tears feeling as though my soul were leaking,
I fear my nightmares have escaped my sleep and become reality.
They broke through the walls I have built with my own hands,
every finger creaking with rust,
and turning to dust.
The remnants of my ever-lasting memories being portrayed via my stone-cold rage,
I kick,
I scream,
I cry.
The oxygen feels as though it thins with every muscle-stretching gasp,
my voice of reason begins to fade slowly into the dark depths of my emotions.
The bottomless abyss begins to come to a close,
I hit rock bottom.
My legs fractured are now shattering,
I plummet to the ground where I shall be chained soon enough.
With every punch to the air,
I swing my arms as though they were not a part of my body.
I lose consciousness of my own mind,
I kick,
I scream,
I cry.
My pain will never end,
it is as though I claw at this locked door.
My nails have ripped as I heard them grind against the cold steel,
I know they will not grow back this time.
I now use my doll-like body,
the never-ending rage within the core of my tormented soul fueled my every earth-tumbling slam.
I shake,
I stumble,
I fall.
Is this the end of the pain-numbing adrenaline?
I hear a voice of an unknown but familiar warmth,
I regain my voice of reason.
I feel the touch of a hand that knows compassion,
the consciousness of my arms and legs come back to me.
The smell of the air returns to me,
my breathing is no longer abnormal.
I see the face of a person who understands,
I no longer see abstract in front of me.
The taste of bitter rage escapes my torn tongue,
I.. smile?
The rust brushes gracefully off the beams of my mental structure,
the skeleton of my body regaining it's strength to get up.
I feel the will to ascend invigorate my every movement,
my emotions escape me through my weak mouth.
I am finally at a verbal meet.
The sanity returns to me,
it's spot in my soul shrouded in dust and cobwebs.
It's good to be back,
I have envied this ever so distant peace.
With this pain seeming so minuscule,
I smile,
I laugh,
I live.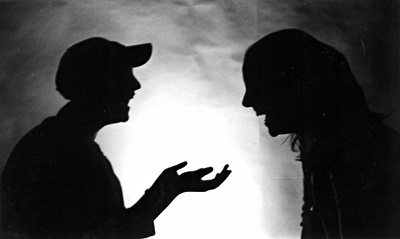 © Jeff A., Marblehead, MA