Blueprints and Rough-drafts
May 20, 2010
Mother's hand moves slowly and deliberately
Across the lined sheet.
Nearly identical to the font
Times New Roman
After pressing the little "I" on the toolbar.
Carefully shaped,
Evenly spaced across the page,
Ideas presented.
A proper school teacher.
Flowing, neat, calculated, precise.
Dad, on the other hand,
A whole different story…
The sheet is already creased and wrinkly
Before his great hand races upon it.
Leaving a tiny scribbled text in its wake.
As if it were written absent-minded,
As if he were already thinking the next thought when he jotted it.
Each idea starting with a hastily circled number.
Not messy nor neat,
Just a blueprint.
I am both of them.
A flowing script bleeding from their pen.
Trying desperately to connect the dots,
To organize precisely,
The mess of ideas and thoughts
In their rough-drafts.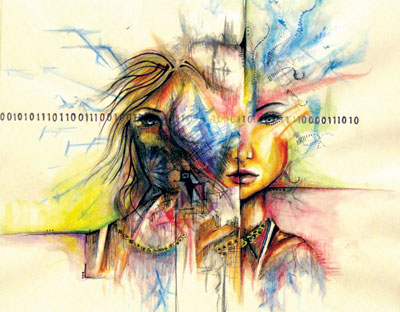 © Melissa W., Fayetteville, GA