God's Test
May 19, 2010
They say life is a test
and that God is the grader.
Then why do some of us finish quicker than others?
Are they smarter?
Do they have more knowledge?
Surely they don't!
I am far more smarter than a 6 year old boy.
But maybe that's just it,
Knowing that age is just a number.
Maybe that's when we finish our test.
When we finally figure out what matters
and what is just a waste of time
I guess I'll just have to wait and see,
what God thinks.
Do I pass the test
Or do I fail miserably?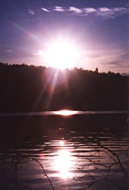 © Laurie T., Hopkinton, MA