Red Poem
MAG
May 11, 2010
My red-hot passion for poetry has just begun,
It burns as fiercely as the fiery sun.
It burns so bright retina damage can't be undone.
It burns like the blood-soaked barrel of a freshly shot gun.

Lines flowing through my head
What rhymes with the color red?
Words like bed, fed, said, dead,
Or even my great-uncle Ned!

But none of those relate to the color red,
So I toss them out of my cluttered head.
Now there's more room in my pinkish brain,
So from mastering this poem, I won't refrain.

With my pencil in hand, I begin my quest
To make my red poem the absolute best.
I make sure my pencil is full of lead
So I can write all day about the color red.

I scribble my poem with such a burning desire
That my paper erupts into a red glowing fire.
I reach for a towel to extinguish the flame
And continue my work that will amount to fame.

I switch to writing with pen to avoid more friction
So I won't interrupt my powerful diction.
But I write so hard that my pen suddenly shatters
And dark cherry ink splashes and splatters.

I finish my poem and rush off to school,
Blushing red with excitement, my mouth drips of drool.
I stand here in class, anxiously waiting,
As Mrs. Kinney starts to do her grading.

"This poem is a mess and it's covered in ink!"
"But it's beautifully written, don't you think?"
"Maybe I'd agree, if I could read it"
"Please give me an A, I really need it!"

Red as a tomato is the color of my face
When Mrs. Kinney says "This poem is a disgrace!'
I suddenly feel like my red beating heart
Has been brutally pierced by a sharp, metal dart.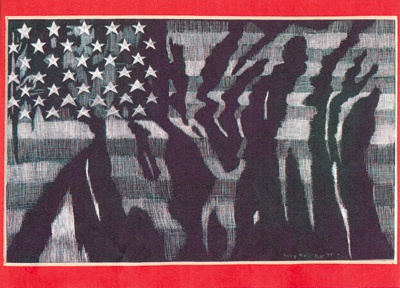 © Haley M., Ellinwood, KS