Truth Within A Lie
May 12, 2010
How can people say that there are only truths and lies?
If the person you believe would be there,
Suddenly changes.
The faces you're used to,
Twists and turns—damaged
And willing to turn around,
In darkness of love and hate,
The dangers of finding intellect,
And, the repetition of events swishing through the air,
Burning to ground life's gifts,

A friend can really be the devil,
Does it force the lies to be truthful?
Smiling in your face one moment—then,
WHISPERS…WHISPERS...SIGHS,
And you're left with what?
Anger and pain roaring in you're the mind,
Falling to the ground,
As if falling out of the tree of happiness,
Boom!

Once a dove,
Wings so brightly whiten—sheets of snow,
Where the sound from her lips,
A lovely song of the soul's moans,
Travel to my ear, softly I float,
No lie could tear from her teeth,
With solemn frustration and care,
The sound of music whistling through our conversation,
And I tip toe to her side,
Before the night turned black,
And the days, no more were bright,
We were one-until death pierced her body.

Reborn into the ashes of lie of truth,
She teases the lifeless body she left,
Grunting like a lion's new dance,
She rumbles on the walls,
Of the others—my friends.
WHISPERS…WHISPERS…SIGHS
She cuts through the pain,
Only to get what's coming,
Am I the one to shed pity?!
She lied to my heart,
She lied to their souls,
She lied to her body,
Found laying there in the distance of nothingness,
Balled like a baby in the womb,
But yet stiller than motionless itself,
Do I dare take her hand?
LIES…TRUTHS…LIES WITHIN TRUTHS…

She stands and falls,
I summon her spirit,
I summon the earth, the water, the air, the fire,
Boiling as a recipe for life—forgiveness,
Do I change?
Am I who she believes I am…but a child?
How can I say anything to trip time up in my hands?
So I sit and I wait,
Steady in her glare,
For now—until my truth comes from within her lie.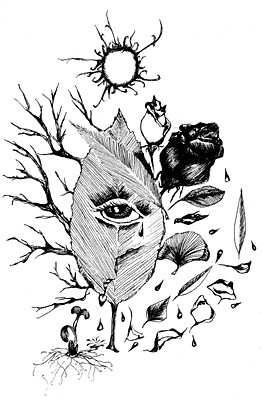 © Cara L., Cheney, WA