Sailboats
May 14, 2010
The boat glided through the sea.
I looked out, a vastness of dark water, all the way to the horizon until it finally touched the sky.
In the distance, a sun set. Water color looking clouds glow pink and orange.
The waves crash on the leeward side of the boat. They splash up almost reaching the deck. White foam sprays my feet as they dangled from the gunnel.
The setting sun shines brightly on my face. The sharp smell of salt overwhelms me while the cool breeze blows my hair.
Seagulls caw and my family chats down below in the cabin. Halyards clank against the masts.
The sail flaps in the wind making music. Flap, clank, splash, drip.
Soon the reflection of the sun on the water sparkles and catches my eye. It makes the water glisten and flashes beams of light as if they were full of sparks.
Another big wave splashes and hits my shins. Chills go up my spine. I shiver. The water is cold and sharp.
The color is deep. Dark blues and teal mesmerize my eyes.
The soothing sound of the water makes my eyes droop.
I listen and listen until I no longer hear anything.
I fall asleep to the music of the sea.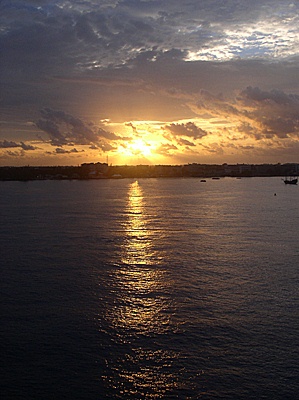 © Rebecca Y., Los Angeles, CA