Sunbeams and Deceit
MAG
May 10, 2010
I was once told never to look directly at the sun,
for its light,
so bright,
is capable of blinding.
But I'll admit,
every now and then I sneak peeks at the fire burning so relentlessly in the sky,
hoping maybe I'll find out what light really looks like.
But eyes squinting, nose scrunching,
I turn away helplessly.
You burn, you melt, you blind,
and yet I follow you wherever you go.
Never looking you directly in the eye, never questioning, never knowing.
Why put myself in such a position?
Frail, vulnerable, exposed.
But does it matter?
Burning my skin, melting my heart, blinding my judgment.
Pulling me by the sleeve to wherever I can be drenched in your weightless radiance.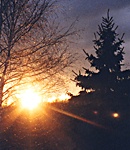 © Christy S., Germantown, NY