Following Enigma
May 7, 2010
Slowly they open and stare into my heart.
They pierce the shroud I have set up in an attempt to conceal myself from the world.
But I am not afraid,
for they are the beautiful green eyes I have been searching for.
Her fingers catch the tears that try to fall from my darkened blue eyes,
she catches them and locks them away so they will never return.
With soft hands and gentle gaze she holds me close,
she won't let me feel alone any longer.
"Please baby, don't cry." she says with such a kind and soft voice.
Hearing the words I can't help but smile.
And so I collapse into her open arms and wait for time to pass by,
with each gentle kiss and touch of her pressed lips,
my scars just slowly begin to fade away.
Come sit, come watch, come stare at the beautiful figure that has given me life again.
Mystical and mysterious, those sparkling eyes just stare into mine with curiosity.
Tighter, closer, warmer, in her arms I remain as she leads me away from my past.
She drives the demons away with words spoken by peaceful tongue.
This enigma I see before me seems to follow in my footsteps,
behind me she strides and protects me from falling off of the path.
Though I create my own road and way,
she fixes all the bumps and cracks that trip me up.
And so I turn around to face my following enigma,
slowly I approach this wondrous mystery,
carefully and gently I kiss her,
then I watch a smile appear and eyes begin to sparkle with pure sweet delight.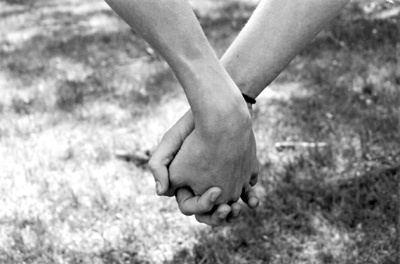 © Alexa T., Pompton Plains, NJ