I love you.
May 4, 2010
We buy a bag of skittles

$.99
I take out your colors

you watch me
I hand them over

you smile.

I love you.
We share a blanket at night

$10
Its cold-I cuddle close

you hold me
My head rests on your chest

I sigh

you love me.
You run for hours on the treadmill

$800
I watch, and sob. I can't help you.

you laugh, evil
I hug you. Please get better.

the weight-you worry

I love you.
I slide the razor, smooth as ice

$1.50
Over my skin, the blood streams

you cry
I'm sorry. I'm worse than you.

you forgive me.

you love me.
Love is blind.

No.
Love is seeing all the faults

and loving anyway.
Love is choosing her comfort

over mine, any day.
Love is that sweet serenity

when she looks my way.
Love is knowing

you're messed up
I'm messed up

it's not okay
but I'm here for you

never let you fall,
listening to you

I care so much
Fighting for you

against everyone

even yourself.
I love you, dear. That will never change.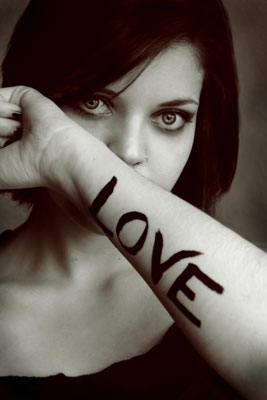 © Michelle B., Blairsville, GA