Letting Go
April 29, 2010
I am suddenly overcome with an intense sadness.
Nothing like I have ever felt before.
The pain in my heart spreads throughout my entire body and
I am aware of the fact that my actions are no longer being driven by my mind but rather my feelings. My cheeks are wet and as the liquid pools at my lips,
I taste the saltiness of my despair. For some reason this fact saddens me even more.
I let loose and my heart takes over.
My body is shaking with fear.
I slide down the wall and hold my legs close to me.
I gasp for breath and I'm frightened when I find that the air is thick and breathing is difficult.
I take deep gasping breaths and lay on my back.
I close my eyes and succumb to my emotions.
Hours pass and I feel relieved and lighter as I walk away.
I know that the pain was great but as I continue down my path,
I know that sometimes it's good to release your emotions
and
let
go.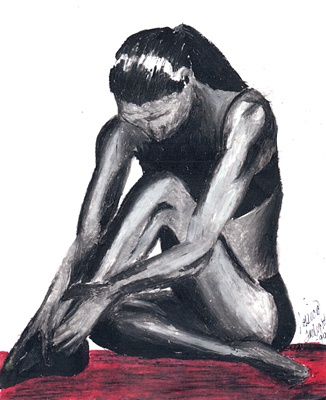 © Jessie Y., Ahwahnee, CA