Chopin
MAG
May 3, 2010
I woke up early to find the sun rising –
a sky painted pink greeted my window.
I sipped tea, sweetened with honey to warm my body and shake the layers of sleep.
You graced my mind,
your sweet Chopin Nocturnes remind me of a delicate sorrow I chose to carry.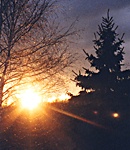 © Christy S., Germantown, NY