Just Be The Same…
April 30, 2010
Don't change.
Don't leave.
I don't want to cry.
I have been left before,
No one wants to live that way.
There I sat, while they bickered about something in hushed tones I couldn't understand, pulling the people around me aside and whispering to them.
"You're talking about me, aren't you?" I asked. "No, just discussing something." They barked back.
"Then why won't you let me come over there?" I replied, "Because it doesn't involve you, so leave it alone." I got so fed up with all of it that I move to my other group of friends' table. Later I'd I find out that I would be sitting with them more often than normal. My "best friend" finally approached me; (at least I thought she was until she said what she said to me right then and there).
She choked out the words, "Emma and Hadyn never actually broke up." (Hadyn being the person I had a crush on at the time). This was only the beginning of the longest couple of minutes I had ever encountered. And I had to sit there and listen to her the whole time. She evaded the fact by saying, "I just set it up because I wanted to see if you would ask him out. Actually he wanted to see if you would ask him out."
I was thinking "Ya, right." I will never forget that day, that day when she almost killed my heart. Why would someone do that to you in the first place, just to gain a spot in a group of friends? She obviously wasn't my friend. From then on, I spiraled into a depression and had to try to find my real friends. It happened, but it took me a while.

Secrets are better kept than told.
This one wasn't any different.
This one was a bomb just waiting.
Waiting to drop and ruin someone's life.
That life was mine.

What would you do if your life were ending?
Would you leave?
Would you just stop and try not to listen?
Or would you try to forget?
I tried to forget, but the words just kept making their rounds through my brain.
I can't cry.
I won't cry.

Have I really found my friends or am I just wasting my time?
My friends are leaving me now.
Leaving me with nothing but traitors.
Traitors that don't care if I'm dead or alive.
That just want to play with my emotions "see" how I react.
And don't care about the important things in life.
I think.
And listen.
But there's nothing.
Nothing to hold on to.
To comprehend.
So I just leave.
But I can't leave.
So I shut down.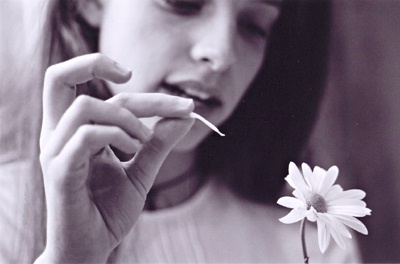 © Emily B., Houston, TX